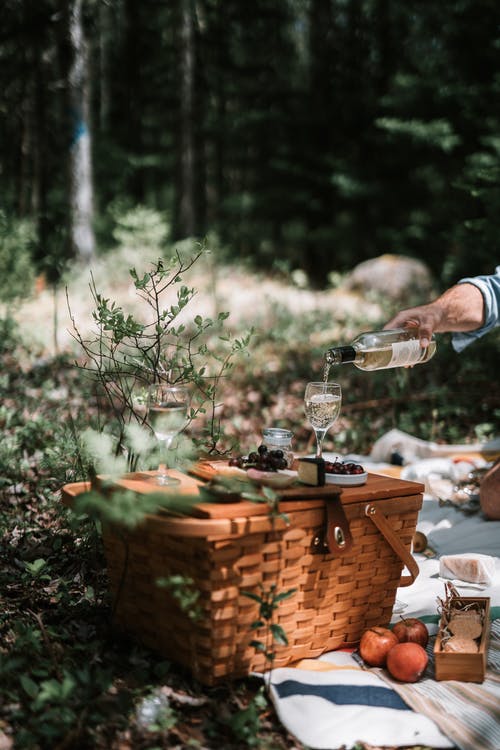 Traveling can be a great way to give your mind a break, have new experiences, relieve stress, and find some much needed happiness before having to get back to your daily grind. Whether you're traveling for business or you're finally on that vacay you've been dreaming about for months, one of the hardest things to maintain besides healthy eating habits can be a fitness routine. And that means when you get back home, it can be even harder to get back in the groove. But staying fit while you're away is easier than you think! Here are some easy tips and tricks to stay fit while you're traveling the world.
Have An Exercising And Eating Plan Before You Go
We've all done it. We hit the hotel restaurant way more than we should have and those daily afternoon margaritas at the hotel bar aren't going to drink themselves. It's important to have fun and enjoy yourself while traveling, but having a plan to stay healthy and active can help mitigate some of the indulgences many of us partake in while away on vacation. It can also save us from putting on the pounds.
Before you go:
Make a plan to exercise! Decide how, when, and what you'll need to exercise before you go. A fitness app like Future can make this super simple with personalized travel workout routines. Read more about that below!
Pack healthy food and snacks (jerky, bananas, protein bars, etc.)
Search the local restaurants and hotel menus online for healthy options. See if any of the menus include calorie counts.
Check with the hotel concierge or your host about local healthy eats.
Get a room with a fridge to store ingredients for healthy foods and snacks so you don't have to eat out as often. Yogurt and fresh water are two of my must haves. You can also pop into a local grocery store to stock up. Some hotels may offer this as a service.
Don't Pressure Yourself To Get In Shape While You're Away
If you haven't worked out in ages, starting a new fitness routine while you're away probably isn't the best idea, unless that's your reason for traveling. The best time to get refocused on working out and establishing a routine is at home. This way you'll have a better idea of what you are interested in doing while you're away and you can adapt your routine to where you'll be staying. Getting in shape before you go can also give you more energy to do the activities you're interested in, like hiking that amazing trail you saw on Pinterest.
If you find it hard to stay motivated like me, the Future app has literally changed my whole fitness lifestyle. As in, I couldn't stay active to save my life before, and now I get anxious if I don't workout for more than a day or two.
Check Your Hotel's Website To Find Out About Their Fitness Facilities
Unless you're staying at a small inn, bed & breakfast, or a vacation home rental, most modern hotels have at least a small gym onsite. If you know you'll want access to exercise equipment, be sure to have a look on the hotel's website before you book to see what equipment and fitness amenities they offer. Besides a gym, a hotel with a pool (indoor or outdoor) can be a great way to stay active. It can also be a treat, if you don't have one at home.
If your hotel doesn't have an onsite gym, you may not be totally out of luck.
On a recent trip, I found myself in a beautifully renovated hotel in a big city without a gym. But as a guest I found out that I had full privileges to the YMCA right across the street. If your hotel doesn't have a gym, ask whether they have a relationship with any local fitness clubs.
Body Weight Training Exercises Are Just As Effective
No gym, no problem! Body weight exercises like plank variations, push-ups, squats, lunges, bicycles, and the hollow-body holds can keep you strong without any fancy equipment. And you can do them anywhere without the need of much space. Pilates and barre are also super effective exercise styles that are based on body weight exercises. Yoga too!
For A Body-Mind Connection Start The Day With Yoga
If you're looking for a way to relieve extra stress while staying active yoga can be a perfect way to do it. Yoga is a mind-body practice that tones and builds strength, while having you pay attention to your breath. Essentially meditation through movement, yoga is an easy-to-do-anywhere exercise that makes the perfect activity while traveling. All you need is your body and a mat, but even a towel will do.
If you've never tried yoga and think it looks too easy, think again. There are a variety of different types of yoga poses (asanas) and styles. While some styles of yoga focus on the restorative benefits like stretching and releasing stress and tension like yin yoga, others like power yoga are designed to build serious strength. A vinyasa yoga flow combines the benefits of both. And let me tell you, they're not easy. The beauty of yoga is that you don't need to be perfect. Just get on your mat and start moving. Many resorts offer free yoga classes or checkout YouTube for thousands of free videos from beginner to advanced. You can also check out local studios on your trip.
Get Outside And Try Something New
There's so many ways to stay active and moving while you're traveling and it can be super easy to find fun and interesting activities that you wouldn't normally do.
You can:
Check your resort for their onsite fitness class schedule.
Rent or borrow a bike from your hotel to see the sights
Check out local walking or hiking trails (there's apps for that)
Search out local tours like white water rafting, kayaking, surfing, horseback riding, paddle boarding, wind-surfing, snorkeling, scuba diving, etc.
Go skiing! Skiing is an amazing whole body workout plus it's tons of fun!


Bring A Travel Mat Or Lightweight Accessories

When you're traveling, space can be tight in your luggage, as well as in your hotel room, so bringing a bunch of fitness equipment with you isn't really an option. But simple resistance bands are something you can pack that will give you a great workout. They're super lightweight and take up very little space in your luggage. Resistance training is great for toning and building muscle, plus you can do a variety of exercises with these to spice up your body weight routine.

Travel exercise or yoga mats which are lightweight and fold into your luggage are great if you're planning on doing daily yoga or body weight routines. In a pinch, a bath towel can be a great stand in.